The Express Entry program is the most popular route to permanent residency for immigrants seeking to make Canada their new home. Anyone looking to immigrate to Canada as a Federal Skilled Worker, Federal Skilled Tradesperson, member of the Canadian Experience Class, or a Provincial Nominee now uses this express entry system.
What is Express Entry?
The Express Entry program allows you to submit your profile online for Canadian immigration. Several criteria are considered when analyzing the profile, such as educational qualifications, professional skills, medical records, criminal records, etc.
To create a seamless electronic immigration system for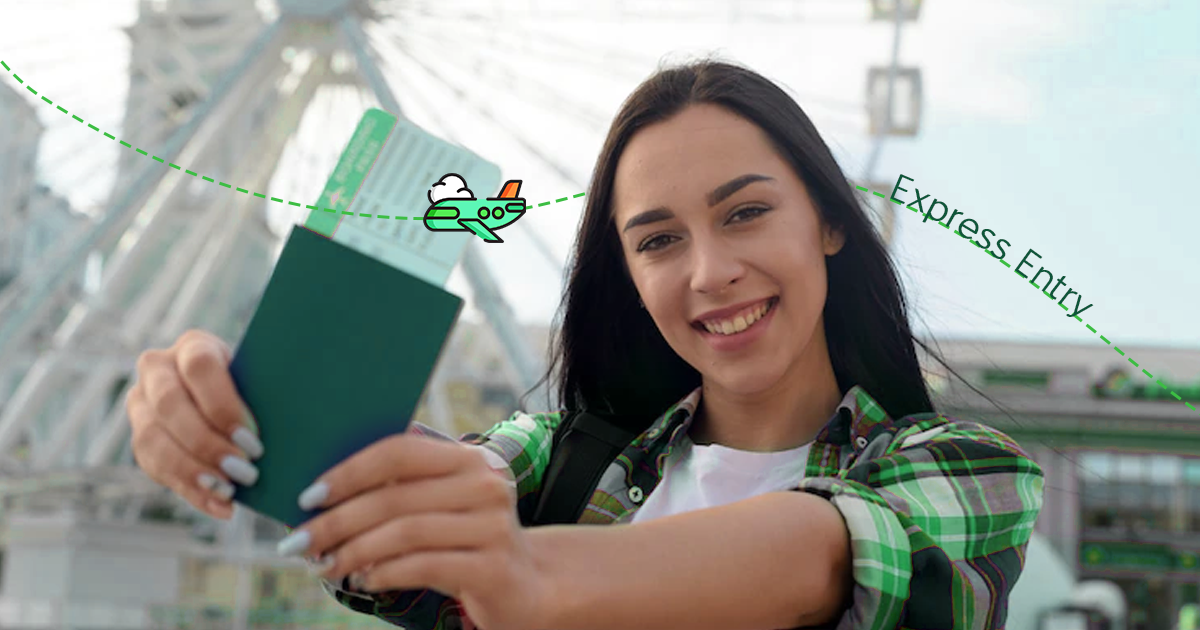 eligible immigrants, the Canadian government launched Express Entry in 2015. For qualified professionals, it is the fastest and most convenient way to obtain permanent residence and study in Canada.
A system made up of three federal immigration programs allows skilled individuals and their families to become residents of Canada within six months. Through a points-based system, applicants are ranked against each other. Candidates with the highest rankings are invited to apply for permanent residency in Canada.
How does Express Entry Canada work?
Determine Eligibility: Candidates for Express Entry must be qualified through one of the following federal economic immigration programmes.
The Federal Skilled Worker Program (FSW)
The Canadian Experience Class (CEC)
The Federal Skilled Trades Program (FST)
All applicants must have at least a year of skilled work experience and meet specific standards on an authorized language test in either English or French, while the qualifying requirements for each Express Entry-aligned program vary. Additionally, Canada checks all Express Entry candidates for any medical conditions and criminal histories that would bar them from entering the country.
Create a profile for Express Entry: You will need to make a personal online profile if you are qualified for one of the programs mentioned above. You will be asked questions about your age, education, employment history, marital status, and proficiency in either English or French. A Comprehensive Ranking Score (CRS) for your profile will be generated using the information you provide. For certain of your statements, you might be asked to provide supporting evidence; however, this normally happens in the stage after.
A set number of applicants from each pool will be chosen, depending on their CRS ranking, and invited to apply (ITA) for permanent residency in Canada twice every month. All supporting documents will be needed at this point.
Getting your ITA: In one of the bimonthly draws, if your ranking is high enough, you will receive an ITA. The cutoff scores differ based on the number of applicants in the pool and the number of invitations the IRCC chooses to send out. It is crucial that you look into all the methods you can raise your CRS because the cutoff score normally hovers around 372 points.  After receiving your ITA, you will have 90 days to formally submit your application and all other supporting materials. After that, the processing takes about 6 months, and if all of your responses are accurate and able to be verified, you will be given a certificate of permanent residency.
Requirements for Express Entry profile
In order to construct your Express Entry profile, you'll need to get three crucial documents. Although you don't have to upload the papers at this stage, you'll need the information on them to accurately fill out your profile. 
1. Language test
All Express Entry applicants must demonstrate their level of French, English, or both competence. Candidates must pass an approved language exam in order to accomplish this, and they must use the test results when submitting their profiles.
2. Educational Credentials Assessment (ECA)
The ECA measures non-Canadian education according to Canadian norms. Notably, education is only a requirement for the Federal Skilled Worker Program, but as education is a significant factor in the CRS score, it is advised that FST and CEC candidates also submit an ECA report.
3. Passport
To submit an Express Entry profile, you must have a valid passport. 
Fill out your profile accurately
Consider what you write in your Express Entry profile carefully and thoughtfully. A large portion of the important information you submit on your Express Entry profile is instantly sent to your electronic Permanent Residence (PR) application. When you are asked to verify all of your information with supporting papers during the last phase of your Express Entry immigration process, it might not seem like an issue.
Express Entry Document Checklist
The supporting documentation for the qualifications and other credentials listed in your Express Entry profile is what you must send with your e-application. The given documents must be in either English or French. If not, you will need to hire a qualified translator to translate the paperwork.
Identification and Status Documents: A copy of your passport or other travel document's biodata page should be included. Including birth certificates for each person listed on your application.
Language Test Results: You should always attach a copy of your language test results. The IRCC prefers that applicants transmit their own results, while certain language testing institutes give you the option of sending your findings directly to the IRCC.
Education Documents: Include the following documentation to support the qualifications you have claimed points for, along with an original Educational Credential Assessment report. Copies of the certificates, diplomas, or degrees earned for each secondary and post-secondary program completed. Copies of all secondary school and post-secondary program transcripts.
Proof of funds: Candidates for Express Entry must prove they have the finances to support themselves and their families while settling in Canada. Applicants having legitimate work offers in Canada are excluded from this condition, as are CEC applicants.
Photos:  You must provide two passport-size photos for identity verification.
Medical history: Each person must submit a valid medical history with a six-month validation.
Now that you have completed your Express Entry profile online. There is always a way to improve your CRS score and with it your chances of immigrating to Canada, unless you already have a really high score.
Edmissions provides you with all the information you need to make the right decision about studying abroad. Visit edmissions.com to get in touch with us. We can be reached at [email protected] for more information.