Today when educational institutes are facing intense competitiveness and more complex challenges, institutes need to build their unique brands in order to attract students and the alumni community is the best resource to connect to and rely on. Alumni are brand ambassadors of their institution. They are the network between the institution and the current and prospective students. They have trustworthy knowledge to share with prospective students and do campaigning for their institution like none other.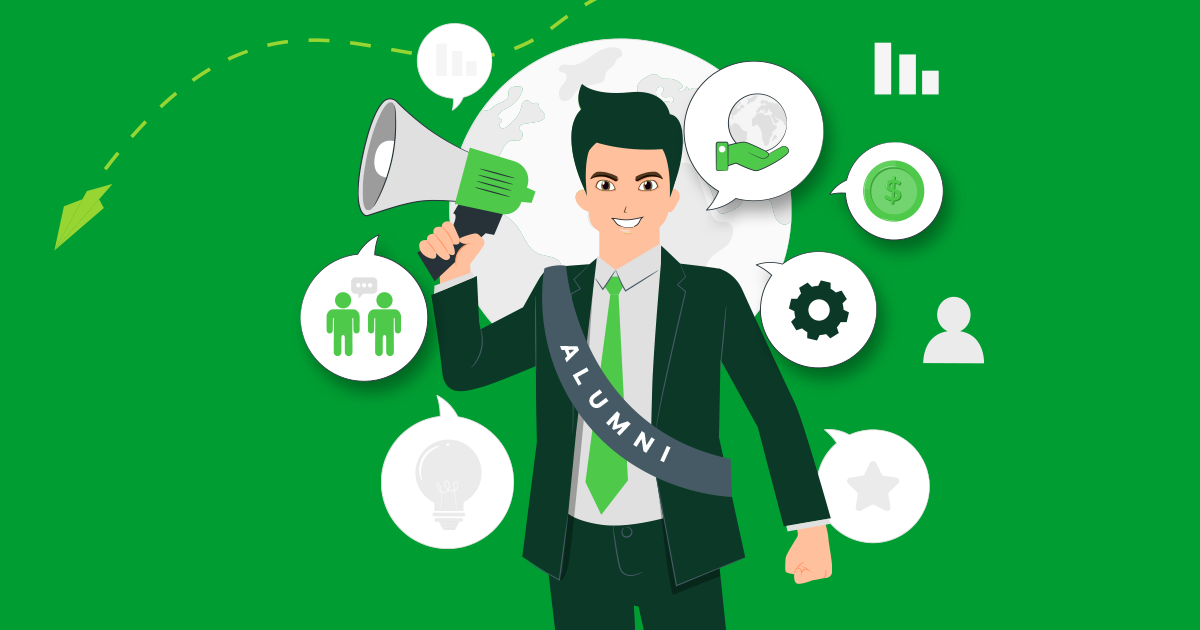 The institution's alumni are likely to be enthusiastic brand ambassadors of their institution with great knowledge to share with prospective students. Every alumnus turned brand ambassador of the institution has their own unique experience about how the institution contributed to shaping their career and life as well. Employability is a prime issue for all students, so alumni success stories really have a great impact on the students currently studying. It definitely adds value to the institution's brand.
Alumni as brand ambassadors
Firstly, a university is a brand. Secondly, alumni are amongst its most valued assets, and best brand ambassadors. On both fronts, institutions have a long way to go, they have significant work to do in building their own brands, and in encouraging their alumni to succeed. A student ambassador acts precisely like a peer to the students whom the higher education institution would hope to enroll. Global student ambassadors work for a college, university, school, or institute, in a role that is far extended from conventional marketing. They serve an educational role for the institution on social media, act as student liaisons for the college, and participate in organized events associated with the institution.
Helps in Fundraising
Donating to one's alma mater or fundraising by colleges is a relatively great practice in colleges that have woken up to the support that these funds can provide scholarships, infrastructure development, research, community initiatives, and many more. When it comes to alumni fundraising strategies, telling their stories and experiences is a great way to grab attention. It helps in building strong emotional connections between the university and its alumni. One of the best alumni fundraising strategies is embracing the institution as their own.  The alumni ambassadors feel compelled to take ownership of the vision of promoting their own institution.
Skill development
Having an active alumni network is immensely beneficial to the institutes for the students studying in the college. Students can benefit in their professional lives by learning from senior alumni, getting to hear about interesting job opportunities, and so on. This is an excellent platform to build their leadership skills. The alumni enjoy and gain professionally by participating in various alumni association activities. There is also knowledge sharing by expert alumni on various topics such as entrepreneurship, artificial intelligence, and many more. 
Alumni's contribution
Through regular interactions, institutions are able to keep track of their alumni's progress and identify those they can reach out to for mentorship and placements. The more engaged a college is with its alumni, the easier it gets to place its students. The placement committee meets with influential alumni who are in a position to decide on where to go for campus placements and invites them. With placements being one of the biggest draws of applications for a college, alumni engagement will prove to be a good strategy.
Alumni Engagement
It seems to be a common practice in the universities to invite their famous alumni as a guest of honor at their graduation ceremonies thereby protecting them as role models for prospective students. Similarly, many universities award their alumni who have become entrepreneurs no matter big or small and have contributed to the development of the institution. Many webinars are also conducted for alumni engagement. In universities around the globe, alumni have been playing an important role in university development, curricular development, employability, the transformation of higher education, and continuous quality improvement.
Alumni contributions through Networking Platforms
The alumni network is one of the biggest sources of placement opportunities for the students of any institution. Since the alumni ambassadors offer great exposure to the students to build their network, it is likely for them to get increased career opportunities and get placed at their respective organizations. With the advent of social networking, alumni have direct interaction with students and help the institutions and universities in promoting its values and pride. Mentoring and Ambassadorship help in easy access to video or phone sessions to inspire the next generation of students.
Alumni contributions to career assistance and development
Alumni ambassadors are a huge pool of talent and the alumni guidance can be significant to many students in their respective areas of study. Alumni can share their experiences and challenges they have faced all throughout their struggling period. An Alumni ambassador's presence is a great way to encourage and motivate prospective students for better career prospects. Student ambassadors play an active role in volunteering programs such as mentoring students in their areas of expertise. Although fundraising seems to be a commonly practiced activity of alumni all over, there is a need to involve them in a variety of ways such as mentoring students, providing assistance to students, recruiting prospective students, providing valuable feedback to the institution, and so on. 
Institutions need to inculcate a sense of pride and loyalty in their students, which in turn will make them emotionally invested in their alma mater's success, persuading them to give back through financial and non-financial means. In this strategy lies the inspiration as well as the reward, for both the alumni as well as the institutions.
If you haven't already, it's time to join Edmissions. Register for edmissions.com now and start paying back your alma mater. Got questions? Please contact us at [email protected]