It is possible for international students to engage in meaningful, practical work in the US in a variety of ways. Students can gain valuable experience, typically through internships and job opportunities, by applying what they have learned in their programs to real-world organizations.
Every student traveling to the US for academic purposes wonders about the employment chances that are offered there. Any international student studying in the US has the choice between CPT and OPT. OPT is for post-study work, while CPT is for internships. However, there is a lot of misunderstanding about these programs among the students. As both of these have really similar regulations, confusion is likely to occur. Here are some differences between CPT and OPT.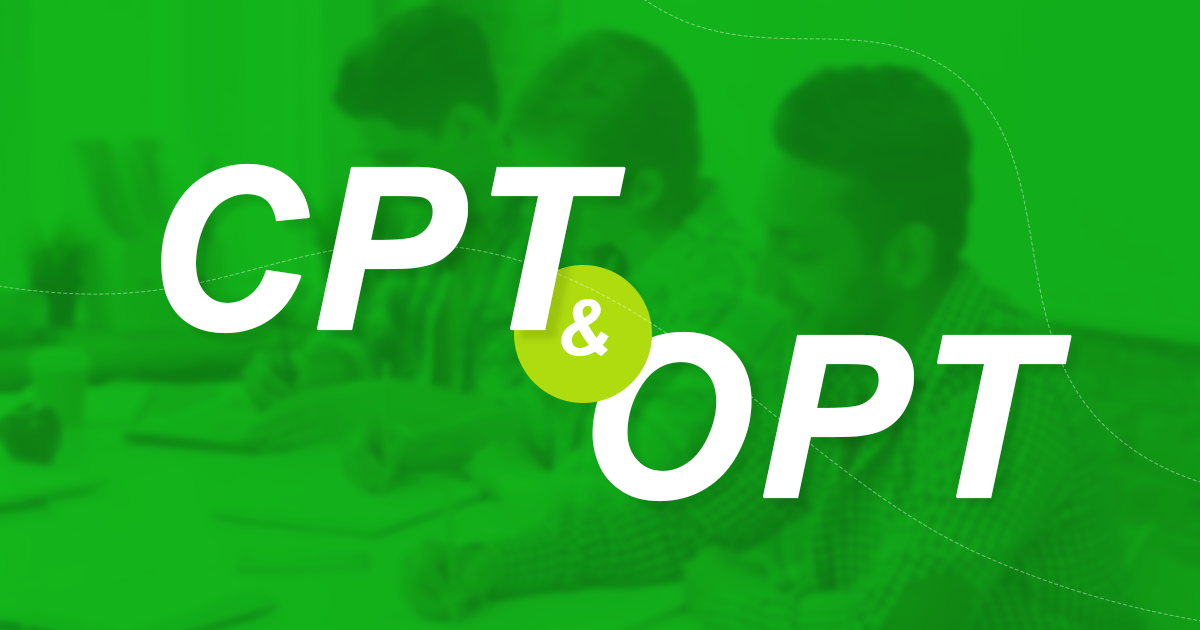 What is CPT?

CPT stands for Curricular Practical Training. For F-1 international students, curricular practical training (CPT) is a temporary form of employment authorization. Students who participate in CPT might train in their primary subject of study or do an internship in it. Additionally, it enables students to experience amazing things away from the university. The following requirements must be met for CPT internships: a degree requirement or a course requirement.
To graduate and earn your degree, many majors require you to complete an internship or work experience, also known as a CPT. You could be required to participate in an internship or work experience as part of the course requirements if you want to get a grade.
Types of CPT
Part-time and full-time training are both options for curricular practical training. If your application for part-time CPT is accepted, you are permitted to work a maximum of 20 hours per week. You may work more than 20 hours a week if you are granted full-time CPT.
If you complete 12 months of full-time CPT while a student, you will not be qualified for OPT. You must definitely bear this in mind when deciding between CPT and OPT. Additionally, keep in mind that CPT will not accept independent studies.
What is OPT?
OPT stands for Optional Practical Training. F-1 international students who maintain their status have the option to apply for 12 months of optional practical training (OPT) if they are qualified. OPT offers practical job experience connected to your major of choice.
Once your degree is over, you can continue to work under OPT. You will be sent an Employment Authorization Document (EAD) if you are accepted. You need an EAD card in order to be able to work legally in the US.
All information must be reported by accepted students to the Student and Exchange Visitor Program. For 12 months of OPT at each educational level, you may apply.
Types of OPT
Optional Practical Training (OPT) consists of three types: STEM OPT Extension, Post-Completion OPT, and Pre-Completion OPT. Pre-completion OPT refers to the time before the end of your program. Your twelve months of OPT eligibility will be reduced by the amount of that time. Post-completion OPT, which starts after you earn your degree, is preferred by the majority of students. Some STEM majors can extend their post-completion OPT for a further 24 months.
What's the Difference Between OPT and CPT?
The main difference between OPT and CPT is their eligibility periods and types of work allowed. CPT must be completed before graduation, while OPT can be completed either before or after graduation. During CPT employment, students work in a paid or unpaid internship, practicum, or cooperative (co-op) education program as part of their major curriculum. Your major must require CPT, and if it is not, you must receive course credit. There are only a few employers who participate in CPT. Alternatively, OPT does not require course credit and allows work, not an internship or co-op.  
| | |
| --- | --- |
| CPT | OPT |
| An F-1 students may use CPT to work for a company to get experience before graduating. | OPT enables an F-1 student to obtain expertise in the same field after graduating. |
| The degree requirements for candidates include working on CPT. | OPT has nothing to do with a candidate's educational requirements |
| There is no application fee for CPT. | An application fee must be paid by a student on OPT. |
| CPT is available for up to 12 months. | The 12-month OPT period may be extended for an additional 24-month period. |
| The student is not granted an EAD by USCIS during CPT. | After receiving OPT approval, the student working on OPT will receive an EAD from USCIS. |
| CPT can be done either part-time or full-time and is often done for 20 hours per week during the academic year and 40 hours per week over the summer. | After graduation, OPT is typically pursued full-time. |
Keeping informed and doing everything in a timely manner is essential for F-1 international students. The difference between OPT and CPT can be confusing, but it can be an amazing opportunity for your career. International students have the opportunity to take CPT and OPT, so make the most of them. Take your time and enjoy the experience!
Hopefully, you now understand the difference between CPT and OPT. If you have more questions about studying, living, or working abroad, make sure you connect with the Edmissions team at edmissions.com, who will be able to guide you.
Feel free to reach our Edmissions specialists at [email protected]