A Statement of Purpose (SOP), also known as a research statement or a letter of intent, is written to the admission panel and talks about a student's career path, interest, professional contributions, goals, and the driving force behind pursuing a particular program. This is usually submitted in the form of an essay, however, certain universities may also keep it question-based. It is the most integral part of students' application that decides their admission to the preferred institution.
SOP is an important part of your application to study abroad. The purpose is to write a formal statement outlining your relevant experience and education, as well as your motivations for studying abroad.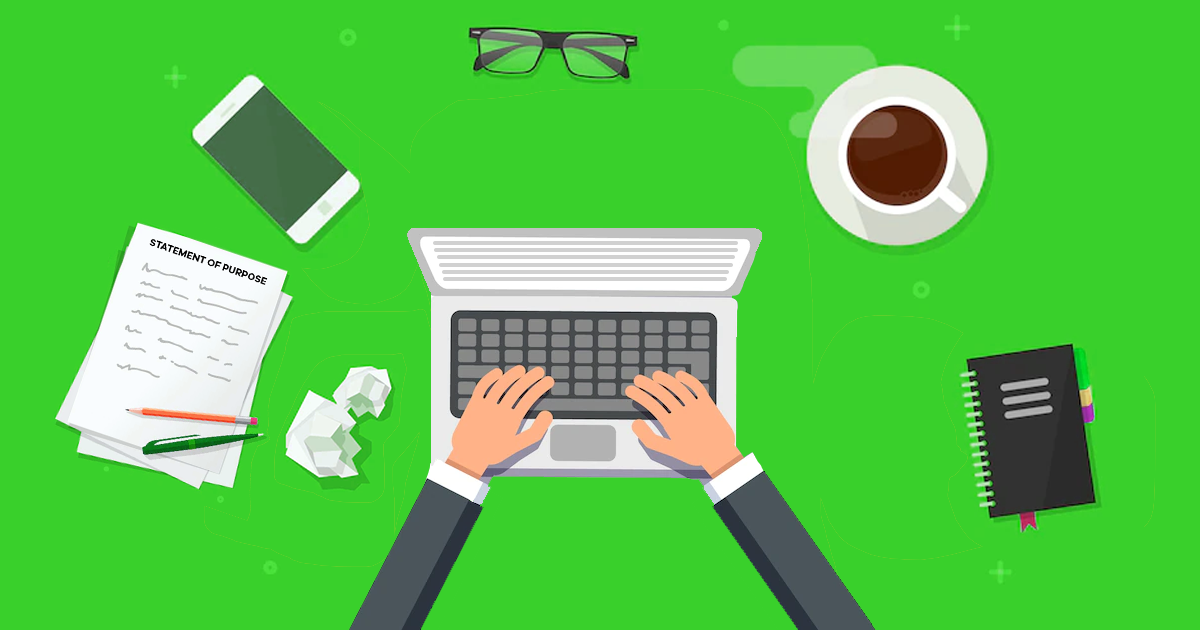 A Statement of Purpose (SOP) is usually an essay that ranges between 500-1500 words in length that gives the desired university a brief idea about student's academic and professional career trajectory till date, their motivation behind pursuing that very stream, students' future goals after the completion of their course and so on. A well-written statement of purpose can often go a long way in boosting their chances of bagging their dream graduate degree. To sum it up, it is the only document through which they can let the universities know about the things that set students apart from the rest, the factors that make their profile unique.
Importance of SOP in the Admission Process
The Statement of Purpose is considered to be one of the most critical components of their application process; perhaps the most important part of the entire admission process. The SOP portrays the most significant impression of students to the admission officers.
A good SOP works great for weak academic profiles wherein you can compensate by highlighting your future goals and ambitions. A well-written SOP also reflects how well you can express your thoughts using your writing skills. The SOP gives students the real opportunity to stand out from the crowd.
Plan it well 
Make a plan for your SOP and work according to it. A smart method to start your introduction is to share an anecdote that inspired your interest in the desired subject. Make a list of your relevant accomplishments and expertise, as well as your motivation for enrolling in the course and attending the institution.
Self-Reflect
Students should begin by reflecting on their life and recalling all of the significant events that have shaped their thoughts, personality, and actions. They must devote a significant amount of time to introspection. There is very little beyond the academic world for the aspirants who have no work experience.
Motivations, aspirations, interests, vision, values, mottos, professional objectives, hobbies, strengths, flaws, and even failures are the finest topics to discuss. 
Drafting SOP
Concentrate on communicating what you've learned during your education and work experience. When drafting your SOP, avoid using technical words and write in an active voice. If there is a gap year or an academic problem, approach it with optimism. Make sure your SOP has a defined beginning and end. Always remember to write your SOP in reverse chronological order. 
Highlight the Purpose
When a student applies to a university, they are hoping to advance academically in a specific field. Then there's the fact that it's not just a foreign degree; there's also a greater goal in mind: acquiring a job. Students must express the expectations of their preferred program and university in a clear and concise manner.
Students need to research the university, the department, the curriculum, the professors, the university culture, and the current students and alumni. 
Demonstrate your potential
Student's potential is their ability to excel at something. Students should discuss the relevance of their recent activities and achievements, and summarize their careers. Students need to demonstrate their potential to pursue the intended program and complete it successfully. They need to talk about accomplishments in academic and co-curricular activities. The SOP needs to show that the student is well-prepared for the program.
Keep it Formal but Conversational
Students need to ensure that their statement of purpose is distinctive. Students should write their SOP in a way that engages the admission committee, and compels them to read on. Their SOP should sound more like a verbal conversation rather than just listing the information. Explain how you faced challenges and tackled them.  Be precise, concise and honest with the information that is present in the Statement of Purpose.
It is essential that students understand the tone of the language that is required to write a good SOP. Sounding very friendly or casual can negatively impact their application. Students should maintain a formal but conversational tone throughout their SOP. Also, whenever they mention their technical fields, work experience and academic records, they should be highly specific and exact.
Portray as an asset to the University
Every university looks forward to accepting those candidates who have the potential to make the best of the education they receive and make valuable contributions to the industry or to research and the university. Let the university know how valuable you are by pointing out your passion to learn, your ability to quickly adapt to changing circumstances, and demonstrating a positive attitude towards taking up new challenges and other qualities that make you a great fit for their student body.
Customize Your SOP
The most common mistake students make is having a shared draft to which they make minor changes and submit while applying to multiple universities. What people don't understand is that by trying to generalize it, it loses its meaning. Their cultures, techniques, visions, values, motto, strengths, and weaknesses that differ from university to university should all be included. 
Take help from Counsellors and Professors
Students should not be afraid to seek help from counsellors or experienced professors; they are technically competent and can provide them with significant suggestions on how to present their technical skills and project work in the statement.
Review before sending
It's important to review what you've written. Re-reading will help correct the flow, vocabulary, sentence construction errors, long sentences, and other grammar issues. Get a second opinion, maybe from a senior, professor, or counselor. Make sure you proofread properly and double-check before submission. 
Make sure to write in an organized manner, and cover all the points in proper order. Following a meticulous order will make the statement of purpose a lot better to read and understand about you and your story. 
With the help of experts at edmissions.com, you can maximize your study abroad experience. Make the right decision by contacting Edmissions at [email protected]