The PTE Academic test is frequently used to evaluate candidates' English communication skills. Candidates are scored using a Global Scale of English, which is adaptable to a variety of well-known tests and scales worldwide.   The PTE score chart essentially illustrates this.
An automated scoring system using computers is used to conduct, score, and mark the Pearson PTE exam. In fact, no humans are involved in the PTE Academic exam's marking procedure.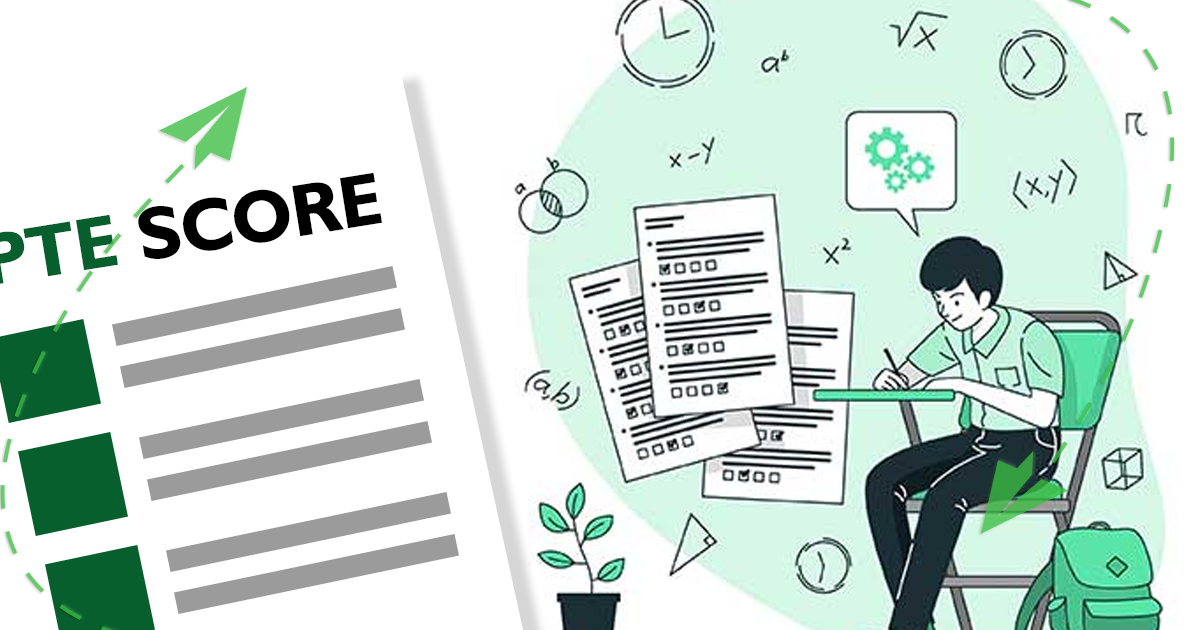 What is the PTE Score Chart?
A PTE score is a graph of scores that indicates how well you speak English or how much you know about it. The task of evaluating PTE scoring is challenging. The PTE score is the total and average of the skills evaluated by the PTE exam format. Grammar, oral fluency, pronunciation, spelling, vocabulary, written abilities, and PTE communicative skills are all taken into account when calculating the overall Pearson PTE score, which ranges from 10-90.
PTE Score Chart Evaluation
What constitutes a strong PTE score is confusing to candidates. Each PTE test component—speaking, writing, listening, and reading—has a certain standard of excellence, and points are awarded in accordance. Candidates can compare these using the PTE score chart. Candidates can build a clear understanding of the revised PTE score chart by referring to the table below.
| | |
| --- | --- |
| PTE Scores | Level of Excellence |
| 30 – 36 | Limited |
| 36-43 | Modest |
| 43-50 | Modest |
| 50-58 | Competent |
| 58-65 | Competent |
| 65-79 | Good |
| 79-86 | Very good |
| 86-90 | Expert |
PTE Overall Score Calculation
 
Candidates must already be familiar with the idea of a marks chart. The results of applicants in each section of the PTE test are used to calculate the PTE score. Based on the candidates' communicative and enabling scores, the PTE scores are determined.
Your ability to communicate in another language depends on the following abilities, which PTE Academic tests for:
Communicative Skills: The candidate's reading, writing, speaking, and listening skills are evaluated, and the communicative section scores can range from 10 to 90 points.
Enabling Skills: The scores of enabling scores, which assess pronunciation, oral fluency, vocabulary, and written discourse, likewise range from 10 to 90 points.
How is the PTE exam scored?
The listening, reading, speaking, and writing components of the PTE exam are rated on a scale of 10 to 90, with 10 being the lowest score and increments of 1 point. The score, which is based on a scale, shows how well a person can read, talk, comprehend verbal instructions, and write in the English language. Your total English language proficiency is reflected in your final score. The results are displayed as a graph, making it simple to see both the candidate's language proficiency strengths and areas for development.
PTE scores accepted by whom
PTE Scores, one of the exams with the broadest acceptance, are recognized by some of the best universities and foreign nations. Students must take the Pearson Test of English (PTE) Academic test if they want to pursue further education in Australia, New Zealand, the USA, UK, Canada, Ireland, Singapore, or Germany, among many other nations. PTE Academic, one of the most extensively used computer-based English language examinations, is typically taken for immigration and study abroad purposes.
Students who take the PTE Academic exam receive a thorough assessment of their language skills, including their overall English score as well as scores for each subskill.
 
The Edmissions Counseling Service is here to help you achieve your study abroad dreams. Our goal is to help you get into the graduate school of your dreams by helping you with your essays, your profile, and your recommendations.
Do you still have questions? We are here to help you. For quick answers, visit edmissions.com. Reach out to [email protected] if you'd like to discuss studying in Canada.