This podcast is for study abroad students, especially for aspirants who prefer Humber College, Canada.
Edmissions is your study abroad partner that focuses on offering credible information about your study abroad dreams. We have initiated a podcast helping you guys by getting knowledge and experiences about college, studies, as well as admission process from current students in Canada, the USA, the UK, and other countries.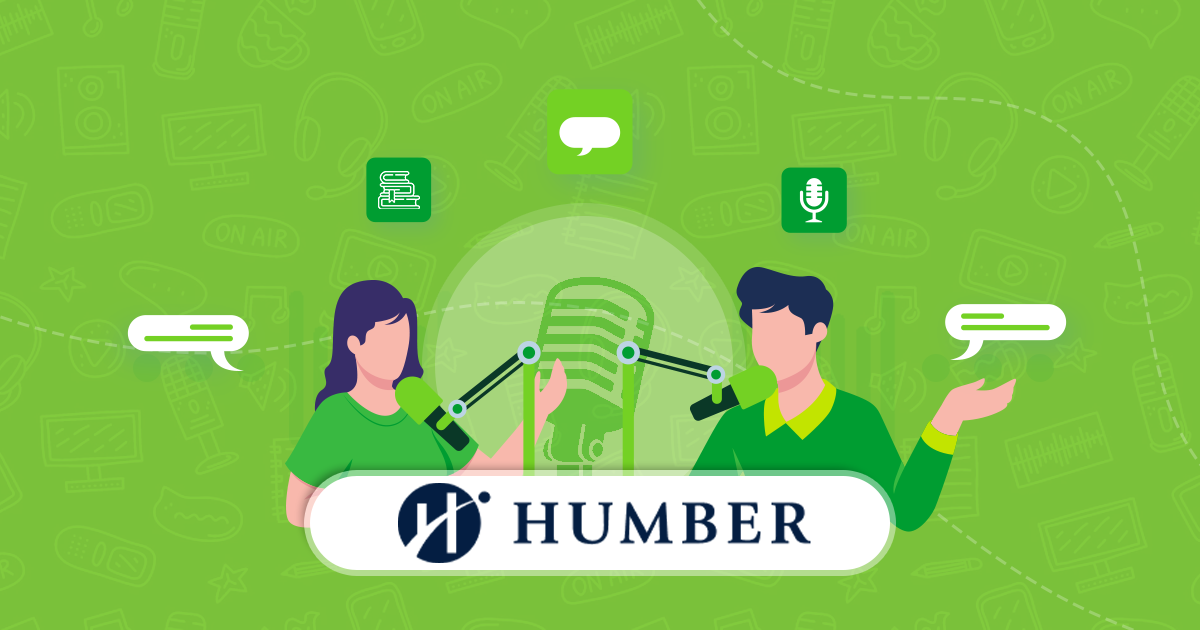 In our current edition, we will be talking about Humber College, Canada. Read below for more informative content.
Welcome to the "Students Speak - Canada Series" today; we will discuss Humber college. I am your host, Kunal.
We are excited to share this conversation with you, but before we move further, let's talk about our guest. Well, today's guest is Shivani, a current student at Humber College. She is studying supply chain and working part-time in the international student advisor team.
In this episode, Shivani will share her experiences and journey of studying in this college and helping study abroad aspirants make the right decision in choosing the college.
Shivani, we are pleased to have you; let's discuss life at Humber College in detail.
Why choose Canada as your dream location?
Host: Well, before moving further, I want to ask why you choose Canada, especially Humber.
Guest: I selected my destination because it's a famous country, and students mostly prefer Canada as the student visa process is relatively smooth and straightforward. Moreover, Canada is the safest country for international students to study and settle.
Talking about Humber college, I got to experience quality education and various on-campus facilities. It is situated in the middle of Toronto, which opens up multiple off-campus job opportunities. For an Indian student, studying here will not make you feel lonely at all, as the college will have friendly people to offer support.
Host: That's good to hear; let's move to the next question
Study abroad experience
Host: It would be great if you could share your experiences of studying abroad with us.
Guest: I always wanted to study in Canada. My experience was incredible now, and I will remember it for the rest of my life. The most exciting thing about the campus is that it is full of energy and surrounded by nature. The independence you gain and the sense of responsibility you get studying abroad teach you everything. Most importantly, the faculty consider the global perspective while teaching as there are students from different countries.
Courses at Humber College
Host: Which course are you pursuing at Humber College?
Guest: I am studying Bachelors in supply chain management as this course considerably demands a career. At Humber, you learn the global perspective to work anywhere worldwide.
Application and Tuition Fees
Host: Is there any application process for studying at this college?
Guest: Yes, you need to fill out an application form that costs you approximately CAD 75, which is non-refundable.
Host: Ok, can you also give study abroad aspirants an idea about the fee structure?
Guest: The fee structure varies as per your program; as per mine, the course fee is around 18,000 to 19,000 CAD.
Scholarships  
Host: Do you have any idea about scholarship availability for international students?
Guest: I have a little information about that, as I haven't applied for scholarships. Still, as per my  friends, you can get around CAD 1,500 to 4,000 depending upon the overall criteria.
Admission Process
Host: Can you guide our listeners about the Admission Process?
Guest: Why not? Well, admission is open for three intakes, fall, winter, and spring. You can start your application process by filling out the application form and uploading all the required documents. Once your application is approved, you get the acceptance letter to get admitted.
Host: Any tips for students planning to study at Humber?
Guest: Before joining the North Campus, you must make sure to study the weather. There is a lot of cold in the winter here. So, bring the clothes accordingly. If you are non-vegetarian, it will be good for you as most of the food options are non-vegetarian on campus.
I wanted to say all the best to everyone planning to study abroad!! 
Now, let's end the conversation; I hope you all have got answers to your queries.
I thank Shivani for giving us time and sharing such valuable insight with all of us.
Stay tuned to our Students Speak - Canada Series. We will come up with a new college soon!