When it comes to taking the IELTS exam, the best thing is that you can take it throughout the year as per your selected exam date. However, there are a lot of students who prefer to study abroad, and due to this, the test dates are filling fast, so it's best to book the dates as soon as possible. 
At the time of college admission, dates are filled very fast, and it's best to fill in the IELTS exam a month in advance. There is a total of 4 IELTS exams in a month and 48 times in a year. After taking the IELTS academic exam, you can get the results after 13 days.4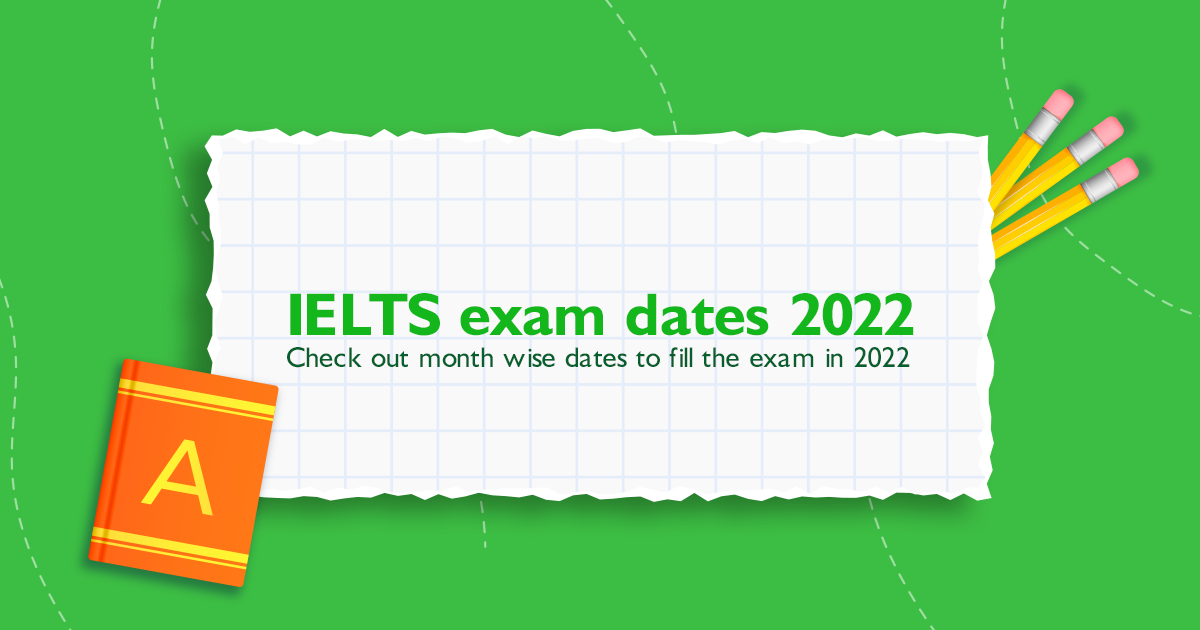 IELTS exams usually take place on Thursday and Saturday every week at a designated test center. The listening, reading and writing test is taken on the same day while speaking is conducted on a different day; it can be before your main exam or within the next 7 days.
How to find the IELTS Test Date?
IDP IELTS India conducts both IELTS General and IELTS Academic across major cities in India. Hence, you can visit the IDP website to check out the dates for your exam.
Steps to book your IELTS Exam Date and Location
If you want to book your IELTS test, you need to:
Visit www.ieltsidpindia.com, after that, add information to the register for IELTS like a select test, test module and city.
You will then be redirected to the IELTS Application: Check Test Availability page. 
Fill in the information, select the month and date, and click 'Apply.'
IELTS Test Dates Availability and test centers:
IELTS test centers for paper based IELTS:
State
Test Centers
Haryana

Ambala

Gurgaon

Karnal

Uttarakhand

Rudrapur

Dehradun

Delhi
Delhi
Punjab

Amritsar

Barnala

Bathinda

Chandigarh (or Zirakpur)

Faridkot

Khanna

Ludhiana

Nawanshahr

Gurdaspur

Hoshiarpur

Jagraon

Sangrur

Patiala

Jalandhar

Moga

Firozpur

Rajasthan
Jaipur
Uttar Pradesh

Lucknow

Noida

Chhattisgarh
Raipur
Andhra Pradesh

Visakhapatnam

Vijayawada

Hyderabad

Karnataka

Bangalore

Mangalore

Tamil Nadu 

Chennai

Madurai

Trichy

Coimbatore

Kerala

Thrissur

Kochi

Thiruvananthapuram

Kollam

Calicut

Kannur

Angamaly

Maharashtra

Navi Mumbai

Pune

Thane

Nagpur

Gujrat

Ahmedabad

Anand

Surat

Mehsana

Rajkot

Navsari

Goa
Goa
Madhya Pradesh

Bhopal

Baroda

West Bengal 

Kolkata

Siliguri

Assam
Guwahati
Orissa
Bhubaneswar
IELTS Academic Exam dates 2022
January IELTS Exam Dates 2022
Test Dates
8th-January 2022
15th-January 2022
20th-January 2022
29th-January 2022
February IELTS Exam Dates 2022
Test Dates
05th-February 2022
12th-February 2022
17th-February 2022
26th-February 2022
March IELTS Exam Dates 2022
Test Dates
3rd-March 2022
12th-March 2022
19th-March 2022
26th-March 2022
April IELTS Exam Dates 2022
Test Dates
9th-April 2022
21st-April 2022
23rd-April 2022
30th-April 2022
May IELTS Exam Dates 2022
Test Dates
7th-May 2022
12th-May 2022
21st-May 2022
28th-May 2022
June IELTS Exam Dates 2022
Test Dates
4-June 2022
11-June 2022
16-June 2022
25-June 2022
July IELTS Exam Dates 2022
Test Dates
7 July 2022
9 July 2022
16 July 2022
23 July 2022
August IELTS Exam Dates 2022
Test Dates
6 August 2022
11 August 2022
20 August 2022
27 August 2022
September IELTS Exam Dates 2022
Test Dates
3rd-September 2022
10th-September 2022
15th-September 2022
24th-September 2022
29th-September 2022
October IELTS Exam Dates 2022
Test Dates
8th-October 2022
13th-October 2022
22nd-October 2022
29th-October 2022
November IELTS Exam Dates 2022
Test Dates
5th-November 2022
10th-November 2022
19th-November 2022
26th-November 2022
December IELTS Exam Dates 2022
Test Dates
3rd-December 2022
8th-December 2022
10th-December 2022
17th-December 2022
Payment Options availability for IELTS Registration
You have to pay a registration amount of Rs.15,500 at the time of the online form application. To register online, you can either pay by Net Banking, debit card or credit card.
However, those who prefer offline registration can pay using the following methods:
1.Cash payment: You can pay the fee in cash at any of the ICICI bank branches by filling out the payment slip and depositing the registration charge.
2. Demand draft: You can also go with demand draft that are payable in New Delhi.
Can I postpone my IELTS exam date?
You can cancel or postpone your IELTS exam personally or through email a few days before the examination, i.e., more than 5 weeks before the test. If you cancel the exam 5 weeks before, you will get a refund of less than 25% of the administrative fee. But if you need to cancel the exam less than 5 weeks ahead of the exam, you will not receive any refund.
Conclusion:
The IELTS exam is an essential step toward your study abroad dream. If you score good marks in IELTS, you can be admitted to the best universities. So, make sure to apply ahead for your IELTS exam to get the seat as per your preferred date and location.
By signing up with edmissions.com, you can find out everything you need to know about studying abroad. Start your study abroad journey by contacting Edmissions experts at [email protected]