Those wishing to partake in vocational studies in the United States may obtain the M1 visa. Such studies may include culinary arts, technical education, mechanics, flight instruction, and cosmetology.
No ceiling has been set on the M1 visa, thus anyone who meets the qualifications can obtain the visa with no limitation on the quantity of recipients. In this guide, we'll discuss the m1 visa processing time and the process for obtaining an M-1 visa.
Who Can Apply for the M1 Visa?
In order to be eligible to apply for an M1 visa and receive a vocational degree, certain criteria must be fulfilled. Not every individual is able to satisfy these requirements.
Must be accepted by an SEVP institution
Before applying for the M1 visa, applicants should check the Student Exchange Visitor Program (SEVP) list of institutions which accept M1 students. Ensure that your school of choice meets the requirements for the visa before submitting an application. After being accepted, the school will enroll the student into the Student and Exchange Visitor Information System (SEVIS) and issue a Form I-20 , Certificate of Eligibility for Nonimmigrant Student Status.
Proof of English proficiency Test
International students should be able to understand and communicate in the language to an acceptable level according to the requirements of the institution. To prove their English level, applicants must take a standardized English proficiency test such as the TOEFL or the IELTS .
Show strong ties to your home country
To be approved for the M1 visa, applicants must provide evidence to demonstrate that they intend to return to their home country after completing their studies, such as property deeds, apartment leases, a foreign address, and family ties. Without enough proof, the US Embassy might reject the visa due to the suspicion of wanting to stay in the United States permanently.
Able to cover the expenses of study and living in the US
To get the M1 visa, applicants must be able to prove they are able to cover their expenses while studying in the US. The I-20 form includes an estimate of annual expenses, and applicants must submit financial documents to show they have that amount available. If dependents are accompanying the student, the financial situation should be even better, showing that they can also finance their stay in the country.
The usage of technology has significantly increased over the past few years. In today's society, people rely on tech for a variety of tasks. From researching information to communicating with friends and family, technology serves as an integral part of life.
A different way to express the same idea is to say that, instead of plagiarizing, one can alter the arrangement of a text while still maintaining the same content and meaning. This way, the originality of the text is preserved.
M1 Visa Benefits
There are several benefits for holding the M1 visa.:
You can enter the United States as a full-time vocational training student.
You can legally work part-time on-campus or off-campus with prior approval from the United States Citizenship and Immigration Services (USCIS).
You can travel in and out of USA freely with your valid visa.
Your dependents can live with you as long as you maintain your M1 status
M1 visas are issued quickly
M1 Visa Supporting Documents
It is important to note that particular requirements must be met in order to obtain an M1 visa. These requirements must be fulfilled before the visa can be issued. When submitting an application for an M1 visa, it's essential to have the following documents ready:
You must have a passport that is valid for at least 6 months after your visa's expiration date.
Your DS-160 confirmation page is also required.
Don't forget to bring the visa appointment letter.
One photograph of the US Visa standard is also needed.
You must have your fee receipts.
You need to present both your original I-20 form and a copy of it.
To show your educational qualifications, you must submit any of the following:
Degrees and diplomas.
Standardized test scores, etc.
You need to prove your financial stability by providing:
Bank statements from the last 3 years.
Tax information from the last 3 years.
Loans to finance your stay in the US (if applicable).
Scholarship details for studying in the US (if applicable).
Form I-134, Affidavit of Support and the person's bank and tax return information for the last 3 years (if applicable).
Step-by-Step Process to Apply for M1 Visa
The M1 visa requires a process much akin to the one for the F-1 visa. In order to apply for your M1 visa, these are the steps you need to take: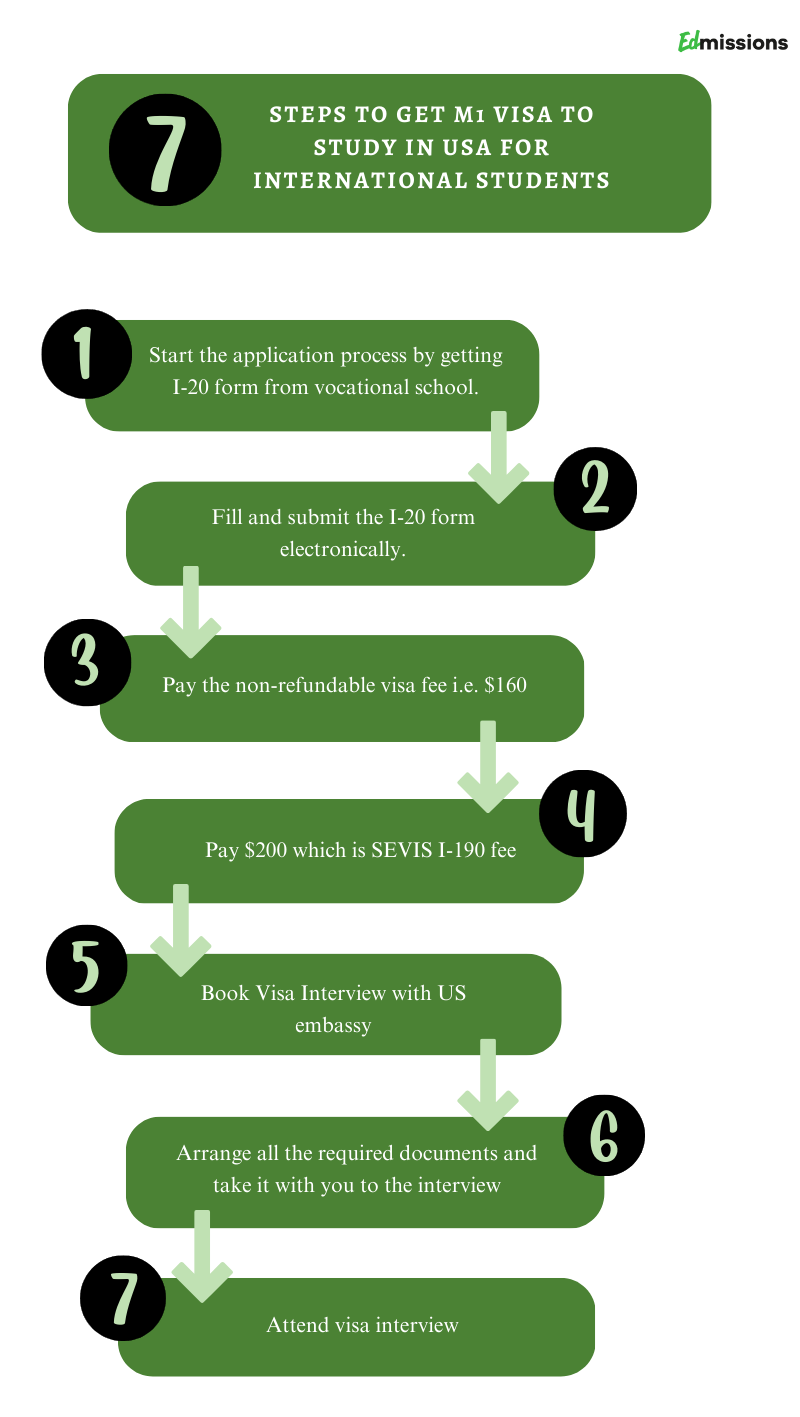 Secure your I-20 Form.
Fill out the DS-160 form on the web.
Settle the visa application fee.
Settle the SEVIS I-901 fee.
Organize your appointment.
Assemble your paperwork.
Show up for your interview.
The effects of global climate change are becoming increasingly evident in our environment. It is clear that rising temperatures, weather patterns, and sea levels have all been impacted by the warming of the planet. Evidence of the effects of climate change can be seen in the form of extreme weather events, melting glaciers, and the acidification of the oceans. It is becoming ever more apparent that the world is facing a climate crisis that requires urgent attention and action.
The way in which one perceives success can vary greatly from person to person. For some, it may be obtaining a degree or winning a competition, while others may find it in the accomplishment of a personal goal or the fulfilment of a dream. Ultimately, success is a subjective thing and its definition can be different for each individual.
Interested in studying abroad? Our Experts will evaluate your profile for FREE
Obtain your I-20 Form: Once you are accepted to the vocational school you have chosen, they will provide you with the I-20 form. This enables you to start the application procedure.
Filing the DS-160 form electronically: Filling out the DS-160 form is the initial step of the online visa application process. All the required information related to the applicant's background, purpose of the visit to the US and the program of study must be accurately entered. Upon completion and submission of the form, a confirmation code and page will be generated, which will be needed in the future for the interview and document file.
M1 Visa Cost: The fee for the M1 visa application is non-refundable and costs $160. Additionally, certain Embassies might have extra charges associated with the visa. Applicants from certain countries may have to pay a visa issuance or reciprocity fee, which is decided by the US Embassy. Ensure to keep any receipts which demonstrate that all fees have been paid.
Cover the charge for the SEVIS I-901: International students in the US must pay the SEVIS I-901 fee associated with the M1 visa, which is $200. Upon payment, a receipt should be kept as it will be necessary at a later time.
Arrange a meeting to interview: It is essential to set up your visa appointment as soon as you can, since the US Embassies are often quite busy and it can take some time for them to book you in. Afterward, you will receive your interview appointment letter which should be included with your documentation.
Put together your document file: It is important to have all the required paperwork finished before your visa appointment. Make sure you bring the complete document file with you.
Prepare for your job interview: Attend your visa interview with the necessary paperwork and be equipped to answer the interview inquiries. Questions about your purpose for entering the United States, financial standing, and links to your home country will be asked. In addition, if you are accompanying your family on the trip, you will be asked to furnish evidence of your kinship to them.
What can you do with an M1 visa?
Individuals granted an M1 visa are allowed to pursue their trade education on a full-time basis, obtaining either an associate degree or some other form of diploma. They are allowed to apply for a driver's license, open a bank account, switch schools during their first half year of studies, have access to healthcare, and work in specific situations.
It is not permissible for M1 students to partake in the following activities:
Work full-time away from a college campus.
Finish their courses as part-time students.
Alter their program or transfer to another college after the first half of their program has begun.
Further their studies in the US to obtain a Bachelor's or other type of diploma.
The ability to effectively communicate is an essential skill in the modern world. Being able to effectively articulate your messages is key to success in both the personal and professional realms. Having the capacity to constructively express your thoughts, feelings and ideas to others is a fundamental element of getting ahead.
The employment of robots in the field of manufacturing is a rapidly growing trend. As technology advances, automation is becoming increasingly common in production processes. Companies are beginning to take advantage of robots to create more efficient and cost-effective solutions. This has resulted in higher levels of quality and productivity, as well as reduced labor costs. In addition, robots can work long hours without taking breaks, which can significantly increase output. As a result, robots are becoming an integral part of manufacturing operations.
A notable distinction between F-1 and M1 visas is that F-1 visas permit students to take part in degree-granting educational programs, such as a Bachelor's or Master's Degree. Additionally, with F-1 visa students are allowed to move to a different school whenever they want and to engage in practical training outside of campus. Furthermore, those with F-1 visas can also sign up for language courses, which is something M1 visa holders are not allowed to do.
Check also: F1 Visa Interview Questions and Answers for Students
M1 Visa Fees
The approximate cost of the M1 visa is $160 (about Rs 12,000), and it is non-refundable. Depending on the embassy, there can be additional fees. Moreover, applicants can be required to pay SEVIS maintenance and processing fees. You must pay a SEVIS I-901 charge of $330 and an application cost of $160 in order to submit an application for an M-1 student visa.For the visa interview, they must also save the I-901 SEVIS fee receipt.
Is it Important to Show the Proof of a Purchased Health Insurance?
No health insurance proof is mandatory when applying for an M1 visa. Despite this, it is highly suggested that you purchase health insurance prior to traveling to the US due to the high costs of healthcare.
In the US, the average cost of treatment for a broken limb can be around $2,500, whereas a single night in the hospital could run you up to $10,000.
What is the Processing time for an M1 Visa?
When considering M1 visa processing time, it can vary depending on the country from which it is being requested. Generally, the processing time for an M1 visa is between two and four weeks, but it is possible for it to take longer. Reasons for a delay may include the need for additional documentation or a backlog in processing. It is important to submit all required documentation and to monitor the status of the application to ensure a smooth and timely process.
The M1 visa process is generally swift and is completed prior to the interview. In certain situations, one may be informed of their visa status right after the interview, with either congratulations or an explanation of why they were denied. However, usually the processing takes at least four weeks. If it takes longer than this, do not be alarmed as it is likely due to the high volume of applications.
Can I bring my dependents with me on the M1 Visa?
You will be able to bring your dependents (i.e., your spouse and unmarried children under the age of 21) to the US with you if your application for the M1 Visa is approved.
Your dependents must apply for the M2 Visa in order to travel with you. It is a permit designed for M1 Visa holders' dependents.
Once the dependents receive their M2 Visa, they will be able to stay in the US for the duration of your vocational studies.
They will receive their separate I-20 forms, but they must leave the US immediately and return to their native country after your M1 Visa expires.
Your dependents will not be permitted to work or take degree-granting courses if they enter the country on an M2 Visa. However, they will be permitted to enrol in short recreational courses.
What is the Validity for an M1 Visa in the US?
The length of your visa is contingent on the duration of your vocational training. Your visa may be granted for the total length of your studies, or it could be for a shorter period of time. Your Form I-20 is only valid for one year, and thus will need to be renewed annually. The M1 visa and the Form I-20 can be extended for up to a maximum of 3 years.
In order to stay in the US for the entire duration of your studies, you must submit Form I-539, Application to Extend or Change Nonimmigrant Status, to USCIS as well as your Form I-20.
Can I Change my Status to a Different US Visa?
You can opt to switch to another non-immigrant visa, however, altering your status to an F1 visa is not allowed. Additionally, there are difficulties in changing M1 visa to h1b visa if the skills you will be using were gained while you were an M1 student.
It can be quite a hurdle to move from an M1 visa to a Green Card; typically, one needs to have remarkable talents, marry someone in the US, or invest half a million dollars in the US economy in order to receive an employment-based Green Card. Thus, relatively few people are capable of making the transition from an M1 visa to Green Card.
Can I get a Job in US with an M1 Visa?
The M1 visa grants limited employment opportunities. Working on campus is allowed, with part-time hours while school is in session and full-time hours during breaks. The time frame in which you can work is limited to only 6 months. If you intend to work, it is necessary to obtain an Employment Authorization Document (EAD) or M1 Visa Work visa.
Filing Form I-538, Certification by Designated School to USCIS, signed by a Designated School Official (DSO), is necessary to obtain an Employment Authorization Document (EAD). In addition, you should also submit Form I-765, Application for Employment Authorization. Once your EAD is approved, all work undertaken should be connected to your educational field.
Read more: Study in the USA - Benefits of Studying in USA for Indian Students
Who are all eligible for dependent visa?

The spouse or unmarried children of an M1 visa owner, who are under 21, can travel to the US on an M2 visa. This visa allows the dependents to remain in the US with the M1 visa holder for the time that they are studying. The dependents will each have their own I-20 form, but when the M1 visa ends, they are obliged to go back to their home country.
Those who are dependents of M2 visas are not allowed to engage in employment or pursue a degree program. It is possible to enroll in recreational courses, and minors can only complete their studies up to the 12th grade in elementary or middle school.
Helpful content: Stem Courses in USA: Scope, Eligibility, Universities for International Students

Conclusion

The "M-1" visa is for individuals wishing to pursue non-academic or vocational studies. No employment is allowed for those who hold an m1 visa vocational courses. Applicants must show proof that they have enough money to cover the cost of tuition and living expenses for the whole duration of their stay.

The Edmissions team is here to provide you with help throughout the college application process. Before you submit your application to your desired college or university, it is recommended that you get in touch with a study abroad consultants by registering on website.

To learn more about application processing, contact our Edmissions specialists at [email protected]
For a quick overview related to study abroad, click here