Canada is one of the most popular international education destinations. In Canada, nearly half a million students apply to higher education institutions from 150+ countries every year. According to world university rankings, Canada has some of the best colleges in the world.
Canada is a popular study abroad destination for students at both the undergrad and graduate levels. Several international students study in Canada from around the world.  A Canadian degree is an excellent choice for international students seeking a low-cost degree. Students from around the world are able to study in Canada at low tuition rates. Canada has a reputable and comparable education system.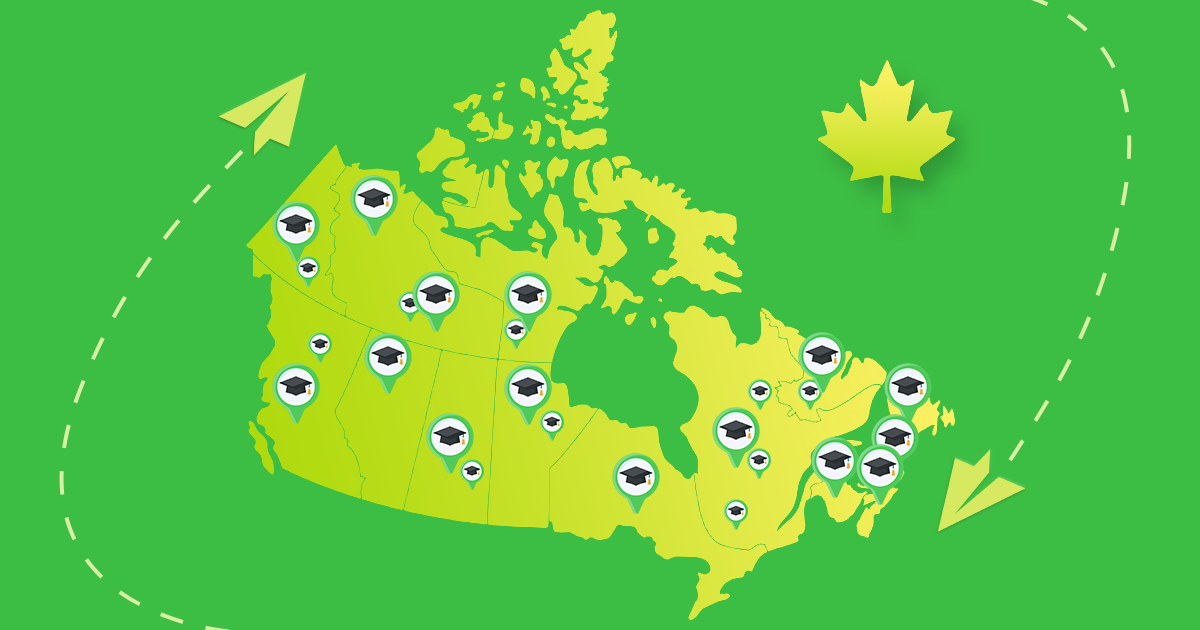 Why go to Canada to study abroad?
Canada is a great place to study abroad for a variety of reasons. These reasons include:
Co-op Programmes: Students who choose to continue their study in Canada benefit from the co-op opportunities provided by Canadian universities. They are able to combine their studies with an authorized paid job term.
Scholarship opportunities: Canada is one of the most sought-after study abroad countries and offers equal opportunities. Providing scholarship opportunities for those in need encourages international students from all backgrounds to enroll in Canadian universities. In Canada, students are eligible for both need- and merit-based scholarships.
Commuting is simple: In Canada, buses are thought to be the most popular form of urban transit. Other forms of public transportation are available in some Canadian cities. Most of the time, switching between modes of transportation is quick and easy. The majority of Canadian cities and communities have good transportation, which includes: buses, Subway, Train, and Streetcars.
Permit to Work After Graduation: The post-graduation work permit scheme, which allows international students to work for three years after receiving their post-graduation degree, is another advantage of studying in Canada.
Immigration Opportunities: Canada is one of the most attractive nations for immigrants for a variety of reasons, including its immigration-friendly laws, pleasant climate, and high standard of living. Canada is one of the most vibrant and forward-thinking countries in the world because of its various communities. Studying in Canada offers students the immediate opportunity to seek permanent residency after graduating, which is one of the key advantages.
Balance between work and study in Canada: The benefit of working up to 20 hours per week as allowed by their study visa in Canada is that it allows international students to supplement their income while they are enrolled in classes while also gaining an understanding of Canadian business culture.
Job opportunities in Canada: In Canada, there are many job prospects for aspiring students. International students are permitted to work in Canada for up to three years after completing their studies with a post-graduate work permit (PGWP). Diverse talent in Canada can choose from a variety of great job packages offered by multiple companies. Additionally, some immigration policies allow them to work and study simultaneously.
Why Choose the Best Colleges in Canada?
Studying abroad in Canada has become increasingly popular. Over the past few years, Canada has seen an increase in international students. This dramatic increase can be attributed to a number of factors, including the opportunity to experience a bilingual environment, which allows you to gain valuable language skills. A world-class education offered by colleges in Canada is well recognized and well-established around the world, making them a valuable option. Upon graduation, you will also be able to gain work experience in Canada.  In addition, you will be mesmerized by the natural beauty of Canada. Why settle for anything less than the best when you can earn your degree at the best colleges in Canada?
Here is a list of some of the top universities in Canada that are highly recommended for international students.
Studying abroad in Canada is a wonderful experience. You can explore wherever your heart desires from coast-to-coast and immerse yourself in a diverse culture. If you study in this country, you'll be able to experience the rich cultural heritage that makes it so special.
Canada offers some of the best universities for international students since it is one of the leading nations in the world. Canada's universities focus on academic excellence and helping students reach their full potential. Professional guidance is provided along with high-quality education.
Apart from education, Canada offers its international students a beautiful climate, cultural diversity, equality, and much more. There are lots of things to explore in Canada, including wonderful views and beautiful weather. It also offers all the benefits and opportunities you'd expect.
Using Edmissions, students will get a clear understanding of the situation since the information comes from an authentic source. Many students have been looking out for a voice they can trust, so this has come as a boon to them.
 If you are interested in studying in Canada, you can reach out to the Edmissions team at edmissions.com. Feel free to contact our Edmissions specialists at [email protected] if you have any questions.