The Duolingo language learning program makes it simple to learn new languages. Duolingo uses a revolutionary framework to assist people in learning a wide range of languages. The following skills are evaluated: Listening, Reading, Speaking, and Writing. Because other standardized tests such as TOEFL and IELTS examine English proficiency over the same standards, universities worldwide are also accepting the English proficiency test of Duolingo.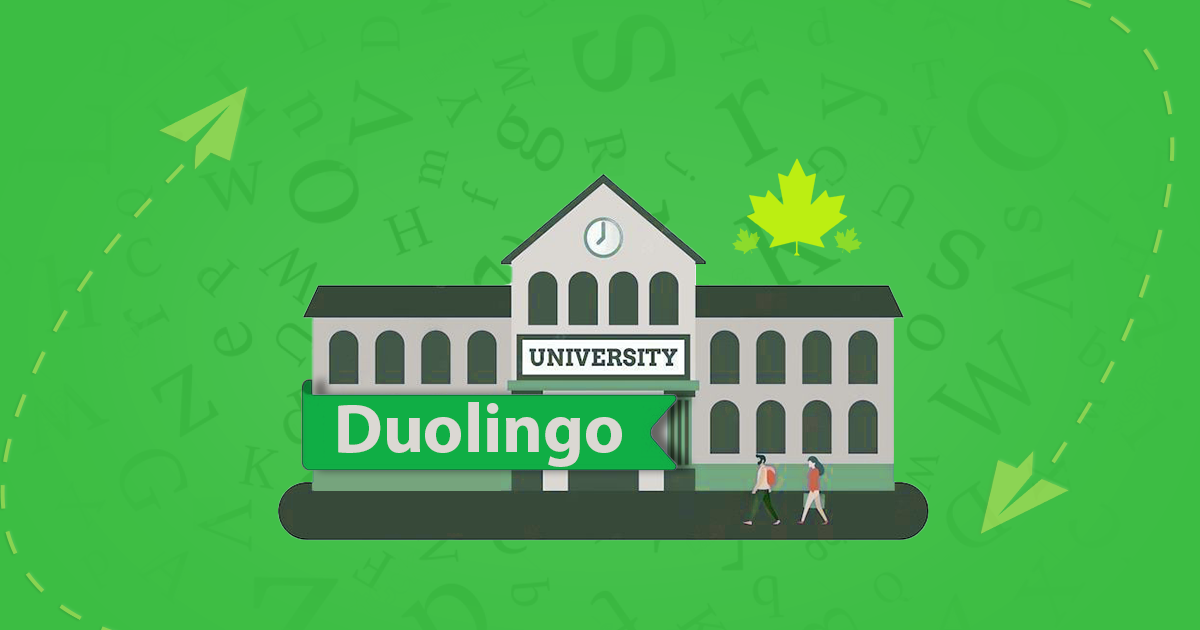 Universities and candidates have turned to Duolingo for English proficiency verification because of influenza's impact on test center accessibility. You may request to take the test, and it may be taken online.
It is a computer test that adapts to the test taker, resulting in questions of various difficulty levels (Larson, 2013). A writing sample and an interview video are recorded by the candidate and sent to the institution, along with the scores (Duolingo, 2014).
Within 48 hours, Duolingo's test results are verified and can be shared with any number of universities for free. On the other hand, TOEFL and IELTS exams require a $20 fee if users wish to send their score reports to any other educational institution than the ones they selected when they signed up. Therefore, if you want to know about Duolingo accepted universities abroad, keep reading.
Why take a Duolingo test to study abroad?
Duolingo has become a popular choice among Canadian students applying to university since the outbreak took place. Here is why:
Cost-effective: Duolingo's English proficiency test is relatively cheap, costing only 49 CAD. This test is for students who want to study abroad on a tight budget.
 
No extra cost: Once you receive your Duolingo test scores, you can send them to any Duolingo-accepted colleges abroad for free. With other English proficiency tests such as IELTS or TOEFL, you need to pay fee for every university you send that is not a part of your registration.
Time duration is quite short: Duolingo exams are the quickest English proficiency exams, with a test duration of 1 hour. In comparison, English proficiency exams such as IELTS or TOEFL have a test duration of up to 3 hours.
The test can be conducted in the comfort of your Home: During the pandemic, taking an English test to study abroad at the test center was difficult. Students, therefore, relied on Duolingo to practice English and then took the test from the comfort of their homes. 
Thus, when the results are announced, 2022 can be applied to Duolingo accepted universities abroad immediately after taking the test. This is beneficial for a large number of Duolingo-accepted universities abroad.
You must meet certain requirements to take the Duolingo Assessment test.
Anyone who wants to measure their English language proficiency can take the Duolingo English Test. The test is usually taken for admittance at institutions that accept the Duolingo English Test certificate.
There is no age restriction for taking the Duolingo English Test. If applicants are under 13 or require parental or guardian consent in their country, they must obtain parental or guardian permission to take the test.
It is common for Canadian institutions to require a minimum score of 115, with certain institutions or programs requiring higher scores. In the case of foundation courses, certificates, and diploma programs, some institutions require a minimum score of around 90.
Typically, a score of 115 is regarded as safe, whereas scores of 120-135 and higher are regarded as good.
Requirements for Duolingo Test
A government ID, driver's license, or passport is required.
Computer
Perfect lighting in the room.
A Wireless Internet connection is desirable.
Opera or Chrome browser 
Microphone
Device's front camera.
Speaker for audio
More institutions are accepting Duolingo English as a certification alternative to the IELTS and TOEFL tests if students want to study abroad.
Students can check the Duolingo accepted universities from the list provided below. Taking the Duolingo test will be an advantage if students want to enroll in any of the universities.
Universities in Canada accepting Duolingo Test Scores
 
The following institutions accept the Duolingo English test:
University of Windsor
University of Alberta
University of British Columbia
Thompson Rivers University
Cape Breton University
Algoma University 
University of Calgary
University of Ottawa
University of New Brunswick, Saint John
Yorkville University
University of Regina
Concordia University
Canadian universities accept IELTS, TOEFL iBT, and CAEL tests in addition to English proficiency tests if a student wants to get admitted.
Top Colleges in Canada for Bachelors & Masters that accept Duolingo Test Scores
Seneca College
Canadore College
Centennial College
NorQuest College
Prairie College
 
Universities in UK accepting Duolingo Test Scores
Abertay University
University of York
Anglia Ruskin University (For September 2021 Intake only)
Cranfield University
Bangor University
Middlesex University
Brunel University
Queen's University Belfast
Royal Holloway, University of London
Loughborough University
De Montfort University
Ravensbourne University London
Kingston University
University of Stirling
Leeds Beckett University
Nottingham Trent University
Universities in USA accepting Duolingo Test Scores
Adelphi University
Wichita State University
Colorado State University
Chemeketa Community College
Arizona State University
Alliant International University
Kent State University
Baylor University
Colorado Mesa University
California State University, Los Angeles
Florida Institute of Technology
University of Vermont
University of Alabama
College of San Mateo
Florida Atlantic University
Full Sail University
Wichita State University
Drew University
Concordia University – St. Paul
Why is Duolingo the preferred English test for universities?
Universities and schools are still testing Duolingo as a feasible English assessment tool because of its numerous benefits to students and universities. Duolingo's online features allow universities to easily keep track of exam scores, eliminating the need for students to travel to the exam center or be physically present. Other tests, however, require students to travel to the exam center and be physically present. Universities, therefore, find it simple to evaluate a candidate with less difficulty.

Is there anything else you need to know? Edmissions is here to help. For quick answers, visit edmissions.com. Reach out to [email protected] to discuss your dream of studying in Canada.